3 healthy dividend stocks for buy and hold investors
---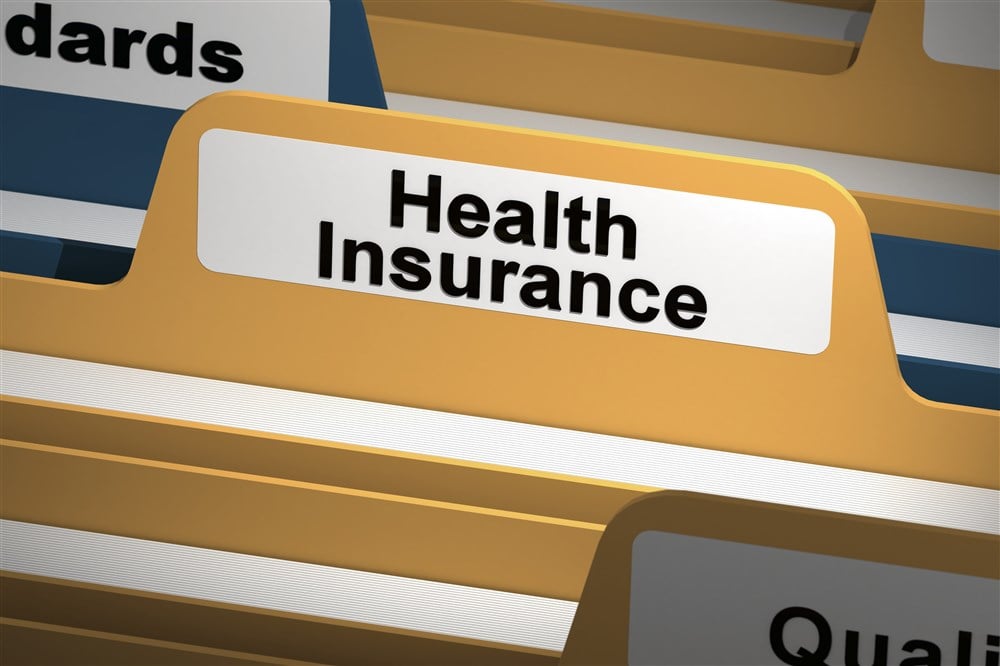 Buy-and-hold investing may seem like a boring activity, but it is the path to sustained wealth building. Building positions over time that leverage growth, capital returns, and capital return growth results in accelerating returns and market-beating performance. Buy-and-hold investing focuses on blue-chip stocks that can be relied upon year in and year out to pay dividends. A good area to focus on is health insurance stocks.
These stocks are supported by secular trends, federal law, and the rise of AI, aiding internal efficiencies and cost savings. While part of a larger group, each presents a unique opportunity to provide choice for discerning investors. More importantly, they have the support of retail investors, money managers, and institutions, which provides a solid support base and keeps the beta's super low. 
United Health for accelerating dividend growth
All stocks on this list are reliable dividend payers with an outlook for distribution growth. The difference with UnitedHealth Group (NYSE: UNH) is that its dividend is growing faster than Humana (NYSE: HUM) and CVS Health (NYSE: CVS).
The dividend yield is mid-range for the group at 1.45% but is offset by the 16% CAGR that has accelerated from lower double-digits over the past few years. Because the balance sheet is in great shape, the payout ratio is low at 30%, and the forecast for growth next year is double-digits, UnitedHealth Investors should expect the next increase to align with trends. 
Regarding ownership, UnitedHealth is a Most Followed Stock on the Marketbeat.com platform, showing a high level of retail interest. It is also a Top-Rated Stock pegged at Moderate Buy by the analysts. The analysts' consensus target is down slightly compared to last year, which has capped gains in 2023 but still implies an 8% upside and has stabilized in recent months. 
Institutions own 85% of the stock and are buying on balance in 2023, consistent with the floor in price action. UNH may set a new high in 2023, but range-bound action is more likely until the analysts begin upping their targets again.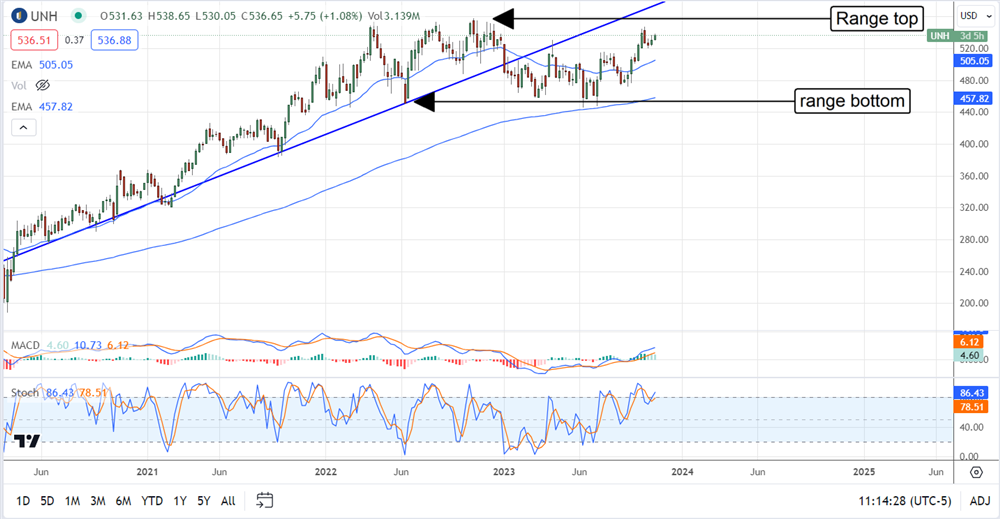 Humana has greater upside potential 
Humana is not a weak dividend, but it is a weak yield compared to UNH at only 0.7%. However, the payout is safe at 14% of the EPS outlook, and the growth rate is steady. Humana has increased its payment by 12% for the last few years and shows no signs of changing. Not only did the Q3 results include growth and top and bottom line strength, guidance was raised, and the consensus for next year's growth is substantial. 
Another difference is that analysts are more bullish on this stock than UNH. The consensus is a Moderate Buy, but the price target is up compared to last year and implies a 20% upside.
Humana stock is also range-bound but has a more substantial upside potential within the range. A move to the top of the range is worth about 1000 basis points of gain and would set the market up to break out to new highs. In that scenario, market momentum could build and drive the stock above the consensus target.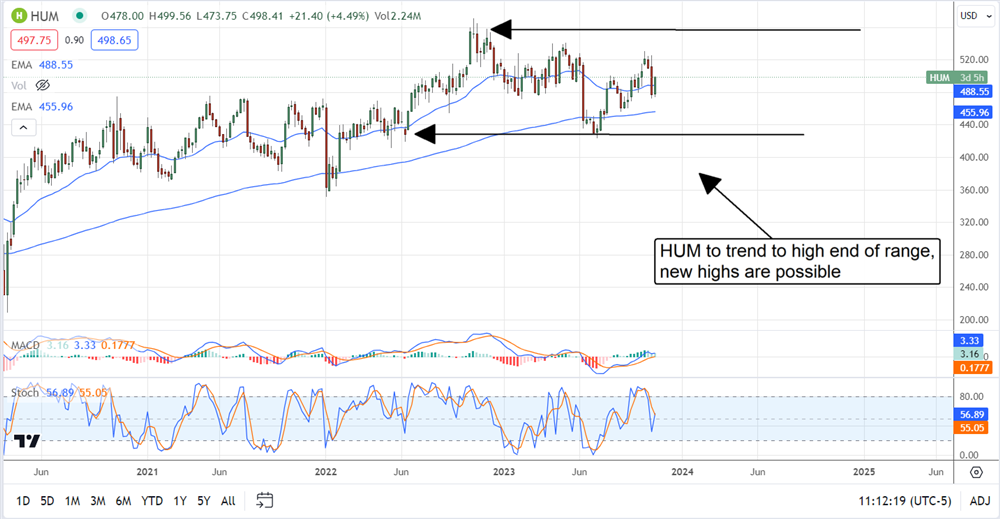 CVS Health for diversified healthcare 
CVS Health offers a diversified approach to consumer health with its insurance, pharma, and retail segments. The downside is that diversification will cost it growth as pharma and retail sales offset industry strength in insurance. Despite this, the stock is among Marketbeat.com's Most Followed and Top Rated Dividend Stocks and pegged at Moderate Buy. The Moderate Buy is due in part to the yield, which is substantial at 3.45%. The payout is reliable; the payout ratio is less than 30%, with growth and margin expansion in the forecast.
CVS Health share prices corrected this year, opening up a deep-value opportunity. The stock trades at only 8X its earnings compared to more than double that amount for UNH and HUM. It is unlikely for CVS shares to double in valuation, but the market is trading at rock bottom with earnings growth ahead. In this scenario, shares of CVS may not double in price, but a move up to the consensus $92.50 is possible. That's worth about 30% to investors.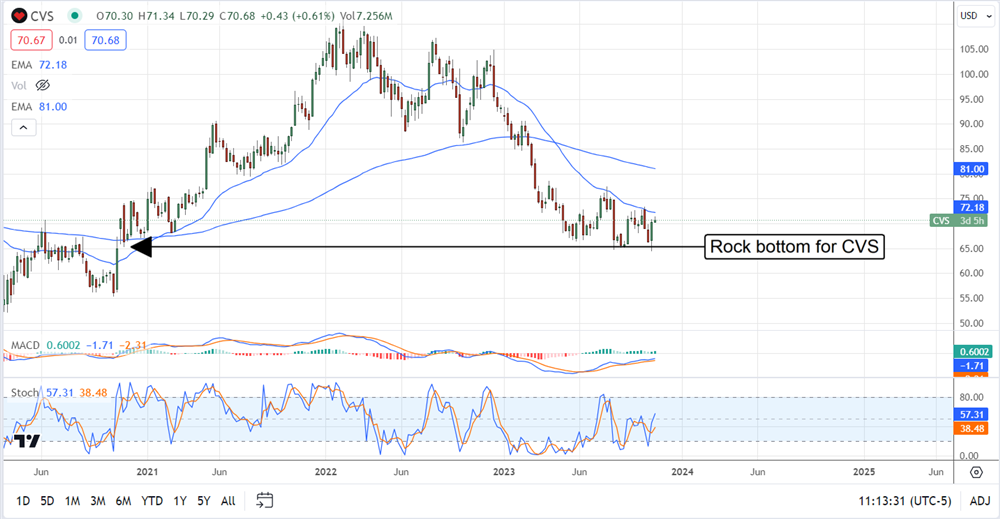 Source MarketBeat
The price for the Humana Inc. stock decreased slightly today. Compared to yesterday there is a change of -€1.300 (-0.290%).
With 8 Buy predictions and not the single Sell prediction the community is currently very high on Humana Inc..
With a target price of 555 € there is a positive potential of 24.05% for Humana Inc. compared to the current price of 447.4 €.
---
Comments